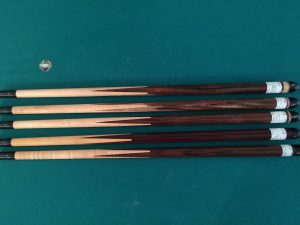 Sneaky Pete's cues are sometimes known as the "hustler's cue," because they look like a run-of-the mill cue, but they're actually a custom cue known for having great balance and playability. Don't let the hustler's reputation fool you though, these cues are used for a wide range of purposes, and they can serve as the ideal cue for you.
A two-piece cue with a traditional look, the Sneaky Pete is an affordable option for pool players and they have a timeless appeal. While it you used to be the choice of hustlers, Sneaky Pete pool cues are now popular because of their advantageous design, making them a great choice for players of many skill levels.
Also, if you have a Sneaky Pete pool cue that has served you well in the past, I offer pool cue repair services that will have it working good as new in no time. For over 15 years, I have constructed and repaired a wide range of pool cues for my valued customers.
If you would like to learn more about the benefits of a Sneaky Pete pool cue, contact me today.