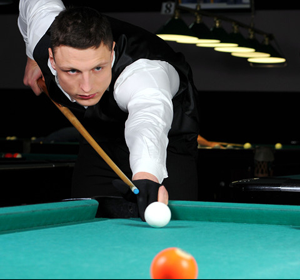 Using only the best available components, builder and designer Chris Whitaker has been building cues that combine beauty, playability, and outstanding craftsmanship since 2001.
Are you looking for a high quality, unique custom pool cue? If so, you have come to the right place.
Since 2001, I have constructed custom cues for players of all ability levels. Whether you're a novice, a local legend or bonafide professional, I can help you design the ideal custom pool cue for your needs.
I use all-natural, exotic cues that are visually appealing and will help your game reach new heights. After all, there is a great deal of confidence to be gained when you have a custom pool cue that no other player uses.
Check out some of the custom cue options you can choose from below. I am always happy to discuss your options with you, as I look forward to the process of helping players select the right design, wood type, inlay materials and cue tips for their game. Each cue has its own distinct look, and the natural wood is really eye catching. With a custom pool cue you get the best of both worlds: an aesthetically pleasing design and a cue that you'll always feel confident using when it matters most.
For more information about the custom cues I design, or to begin the process of the construction of your personal cue, contact me at your convenience.
2014-5 Curly Maple forearm and butt. Black Palm 3 piece handle and 4 points. Juma criss-cross spirals and diamonds. 12.85 MM. G-10 joint pin. 18.6 OZ with a 4 inch weight bolt. – $1815.00
2014-8 Ebony forearm and butt. Zebra Wood 3 piece handle and 6 points. 12.75 MM shaft. G-10 joint pin. 18.2 OZ with no weight bolt. – $985.00
2014-9 Bacote forearm and butt. Curly Pyinma 3 piece handle and 3 points. Full length laminated maple dowel core. 12.7 MM shaft. G-10 joint pin. 18.0 OZ with a 3 inch weight bolt. – $880.00
2014-10 Figured Bubinga forearm and butt. Curly Maple handle. 12.5 MM shaft. G-10 joint pin. 19.2 OZ with a 6 inch weight bolt. – $425.00
2014-11 Birdseye Maple forearm and butt. 5 Snake Wood points with Ivory diamond inlays. Black Lizard print leather wrap. 12.75 MM shaft. G-10 joint pin. 19.0 OZ with a 5 inch weight bolt. – $1585.00
2013-3 Zebra Wood forearm and butt. Boise De Rose 3 piece handle and 4 points. Juma criss-cross spirals and diamonds. 12.7 MM shaft. G-10 joint pin. 18.6 OZ with a 4 inch weight bolt. – $1655.00
2013-4 Bacote forearm and butt. Chakta Viga 3 piece handle and 4 points. Spalted Maple Flores De Lies inlays. 13 MM shaft. G-10 joint pin. 18.2 OZ with no weight bolt. – $1115.00
2013-6 Brown Ebony forearm and butt. Black and White Ebony 3 piece handle. Curly Maple 4 points and rings. Snake Wood diamonds. 12.75 MM shaft. G-10 joint pin. 19.2 OZ with a 2.5 inch weight bolt. – $1725.00
2013-8 Cocobolo forearm and butt. Marble Wood 3 piece handle and 4 points. Ebony 2 long 2 short connected spears with mother of pearl inlays. 12.75 MM shaft. G-10 joint pin. 19.5 OZ with a 4 inch weight bolt. – $2265.00
2013-10 Purple Heart forearm and butt. Granidillo 3 piece handle and 4 points. Juma spirals and diamonds. 12.75 MM shaft. G-10 joint pin. 18.6 OZ with no weight bolt. – $1435.00
2013-12 Ebony forearm and butt. Ebony and Curly Pyinma 7 piece handle. Curly Pyinma spears with Abalone shell diamonds. 12.75 MM shaft. G-10 joint pin. 19.6 OZ with a 4 inch weight bolt
2012-7 Blood Wood forearm and butt. Purple Heart 3 piece handle, 4 points, and 4 razorblades. Holly connected diamonds. G-10 joint pin. 12.5 MM shaft. 19.6 Oz with a 4 inch weight bolt. – $1335.00
2012-12 Kingwood forearm and butt. 4 Curly Maple stars in butt. The handle is made up of short pieces of Curly Pyinma, Thuya Burl, Black and White Ebony, Lacewood, Purpleheart, Black Palm, Amboyna Burl, Birdseye Maple. 12.5 MM shaft. 19.6 OZ with a 2.5 inch weight bolt. – $820.00
2012-13 One solid piece of Zebra Wood makes up the butt. 4 Chechen points measuring 21 inches, and 4 Ebony points measuring 8.5 inches. 8 turquoise inlays. 12.6 MM shaft. 19.5 OZ with a 5 inch weight bolt. – $1350.00
2012-15 Tulip Wood forearm and butt. 4 piece Curly Pyinma handle, and 4 points. Native American styled Turquoise and Red Coral inlays. G-10 joint pin. 12.75 MM shaft. 18.8 OZ with a 4 inch weight bolt. – $1710.00
2012-16 Honduran Rosewood forearm and butt. Masur Birch 3 piece handle. 3 high, 3 low Curly Pyinma spears each with a Turquoise diamond. G-10 joint pin. 12.75 MM shaft. 17.7 Oz with no weight bolt. – $1860.00
2012-17 Bolivian Rosewood forearm and butt. Marble Wood 3 piece handle and 4 points. Ebony spearpoint inlays throughout handle and points. G-10 joint pin. 12.75 MM shaft. 18.6 OZ with no weight bolt. – $1845.00
2012-18 King Wood forearm and butt. Bubinga handle and 4 points. Azurite diamonds. G-10 joint pin. 12.65 MM shaft. 18.9 OZ with no weight bolt. – $1005.00
2012-4 Figured Bubinga forearm and butt. Thuya Burl 3 piece handle and ghost 4 piece diamonds. Brass joint pin. 12.6 MM shaft. 18.2 Oz with a aluminum weight bolt. – $1055.00
2012-6 Cocobolo forearm and butt. Curly maple 3 piece handle, 4 points, and 4 ovals. Quilted Sapele spears with Jade diamonds. G-10 joint pin. 12.7 MM shaft. 19.0 OZ with a 2.5 inch weight bolt. – $1355.00
2012-19 Figured Zebra Wood forearm and butt. Curly Maple 3 piece handle, 4 points and, and 4 boxes. Ebony Connected spears with White Turquoise spear points inlayed in them. Brass joint pin. 12.75 MM shaft. 19.2 OZ with a 6 inch weight bolt. – $1925.00
2012-20 Purple Heart forearm and butt. Bacote handle and 4 points. Russian Lavender inlays. G-10 joint pin. 12.75 MM shaft. 19.6 OZ with a 2.5 inch weight bolt. – $955.00
2012-21 Purple Heart forearm and butt. Marble Wood 3 piece handle and 4 points. 4 Juma spirals and Holly inlays. G-10 joint pin. 12.75 MM shaft. 18.8 OZ with a Aluminum weight bolt. – $1775.00
2012-22 Cocobolo forearm and butt. Spalted Maple 3 piece handle and notched diamonds. G-10 joint pin. 12.75 MM shaft. 18.3 OZ with a 4 inch weight bolt. – $875.00
2012-23 Cocobolo forearm and butt. Curly Pyinma 3 piece handle and 4 points. Native American styled Turquoise and Red Coral inlays. G-10 joint pin. 12.75 MM shaft. 18.4 OZ with a 5 inch weight bolt. – $1735.00
2012-25 Curly Maple forearm and butt. Blood Wood 3 piece handle. 56 Blood Wood dots, and 28 Curly Maple dots are inlayed into the cue in groups of 7. G-10 joint pin. 12.75 MM shaft. 16.2 OZ with no weight bolt. – $1095.00
2012-26 Macassar Ebony forearm and butt. Masur Birch 3 piece handle. Holly connected spear points with Turquoise spear points inlayed into them. G-10 joint pin. 12.75 MM shaft. 17.6 OZ with no weight bolt. – $1265.00
2012-27 Stripped Ebony forearm and butt. Curly Pyinma 3 piece handle with black and blue rings and 4 points. Lapis inlays in points. G-10 joint pin. 12.75 MM shaft. 18.6 OZ with a 5 inch weight bolt. – $1335.00